In between rafting and Glass beads
Rinat Fridman – Brazili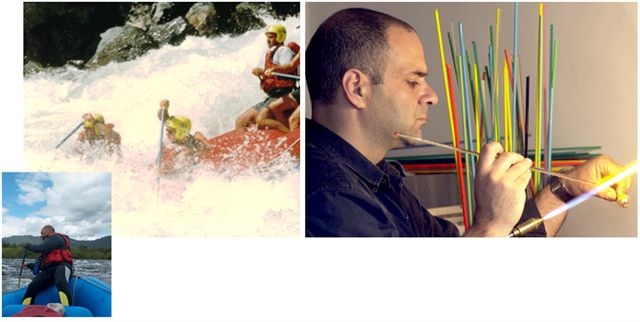 It is a little hard at first to see the relation between rafting and creating glass Jewelry and beads.
Rafting is a swift water survival sport that requires an understanding of the river various currents that would enable one to manipulate them and steer the raft in confidence.
The hot processing of glass is all about fire and heat the glass in order to manipulated and control the melting glass.
The glass has to be tamed.
The river and its currents can never be tamed and will forever win. Thence it should be flowed with and not against.
Rafting and glass blowing both embody the excitement and enthusiasm of a joyful dynamic creation process.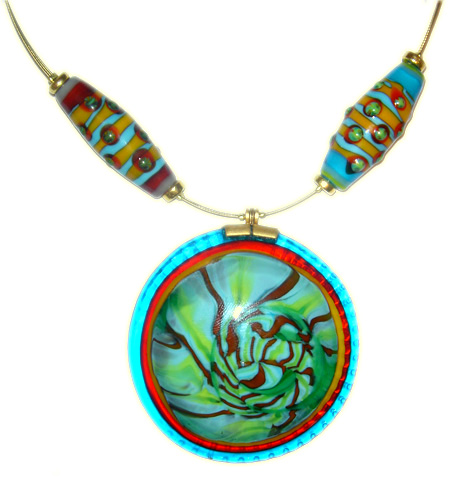 Isaac Or combines the two.
Isaac is the one who brought white water rafting to Israel in 1988, establishing with his partner the "Jordan River Rafting" Company. They shipped the first rafts to Israel and founded a site that has welcomed until today over a million visitors.
13 years from then, in 2001, Isaac felt something was missing. Running the site which has become a large demanding business did not leave much room for anything else in his life. He decided to make a change and take some time off.
He traveled to India and after practicing Yoga and meditation for some months he arrived at Seattle USA, home to the world famous glass blower, Chihuly. Seattle boasts some 6,000 glass blowers and hundreds of galleries, and is a world glass blowing center second only to Italy.
Over the following six months Isaac concentrated all his efforts on glass, its various states and the processing techniques.


Isaac : "As they say in Seattle, "glass is a hundred times more addictive than heroin". I don't know about heroin, but glass is indeed addictive, and there is doubt that I have become addicted to this process and this transparent, solid-liquid material, its magnificent colors and their contrast.
The magical processing of glass is conducted at 900 Celsius degrees at the least. During the process the solid glass melts into a bright red honey-like liquid.
A painter or a sculptor could pause from their work at any time, rest, think and enjoy their creation – glass blowing does not allow a minutes' rest. Overheated, the glass melts, if cooled, it simply breaks. Each second matters and time is of utmost importance. The whole process is conducted via the endless rotating of the blowing pole around itself.
For the finish the glass object is inserted for many hours into a controlled cooling oven. This maintains the glass's durability.
Loosing touch with the process's last production phase makes it al the more addicting to process glass. After hours of laboring in the heat, the artist cannot touch and feel his creation. At this stage the colors are not stable yet and its transparency cannot be admired. The artist is forced to let go of his work and insert it into a high temperature oven which stabilizes the heat, gradually cooling to room temperature.
Usually only the day after one can admire the cooled glass object.
Isaac adds that, "It is impossible to describe this anticipation for the surprising moment when you open the oven and the glass object is revealed in all its glory, transparency and colors. A creation from such an aristocratic material as glass."
Today he divides his life between his love for glass - designing jewelry from Murano glass in his studio - and professionally training swift water and rafting rescue Techniques for the Israelis police and Armi squads.


The jewels are hand made from renown quality Italian Murano glass, each Jewelry arrives at his final shape and color after a melting process.
Each Jewelry is unique, numbered and signed by the artist.